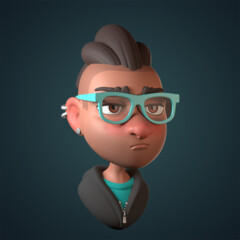 Conrad Fay
Senior Artist at Babeltime US
San Francisco, United States
Summary
I'm currently working as a Senior Game Artist for Babeltime US in San Mateo, working mostly as the only 3D artist. I'm always happy to discuss contracts and permanent opportunities. I graduated from UC Davis with a B.S. in Computer Science, but after developing games, I fell in love with 3D art. Now I am constantly working to improve myself as a 3D artist. I enjoy working on all aspects of 3D art, so I'd consider myself a 3D generalist.
I'm a hard worker and am willing to learn anything to better myself as an artist. I also work very well with others, having come from a programming background.
Skills
3D Animation
3D Modeling
Digital Sculpting
Rigging
Texturing
Retopology
PBR Texturing
Texture Baking
Software proficiency
Productions
Video Game

Frost Hockey

Year

2018

Role

3D Artist

Company

Babeltime US

Video Game

Realm Defense

Year

2016

Role

VFX Artist/Animator

Company

Babeltime US

Video Game

Mind the Trap

Year

2017

Role

Artist

Company

Dissonance Entertainment
Experience
3D Artist - Onsite Contractor at Babeltime US

San Mateo, United States of America

December 2016 - April 2017

Hired to iterate on art style for a 3D mobile game. Created a vertical slice of an environment and characters to give an art pitch. Assets were low-poly, stylized and colorful to ensure readability on mobile. Demonstrated and practiced skills in modeling, sculpting, texturing and concepting.

Senior Game Artist at Babeltime US

San Mateo, United States of America

Worked on developing style and assets for Frost Hockey, a 3D air-hockey game. Made realtime models optimized for mobile, and high quality models for marketing material. Also continuing to develop styles for future game pitches.

Game Artist at Babeltime US

San Mateo, United States of America

Worked on animation and VFX for Realm Defense, a mobile tower defense game. Used Spine, Adobe Flash and Unity to make animations/vfx related to units and abilities. Also worked on developing styles for future 3D game, some translating the Realm Defense 2D style into 3D, and some working on entirely new styles.

3D Artist at Dissonance Entertainment

United States of America

Solo artist for Mind the Traps with two other team members at Dissonance Entertainment. Create stylized PBR assets for Unreal Engine 4 using Maya, Substance Painter/Designer, ZBrush and more. Assets include environment assets, props, characters and accessories. Also create visual effects, animations and UI. Mind the Traps won Best Multiplayer and was a nominee for Best Game Design at Casual Connect 2016, and is now greenlit on Steam. It is aimed to be released in mid 2017.

Game Development Founder and Chair at UC Davis

Davis, CA, United States of America

February 2014 - June 2015

Founded, promoted and organized the game development club at UC Davis. Planned and led events such as workshops, game jams, and demo days. Resulted in over twenty games being made, especially by those who had no prior game development or art experience.